Colored Gemstone Report
The Colored Gemstone Report identifies
and evaluates a broad variety of gemstones, including: alexandrite, amber, amethyst, aquamarine, citrine, emerald, garnet, jadeite, kunzite, opal, peridot, ruby, sapphire, spinel, tanzanite, topaz, tourmaline, and turquoise.

The report includes descriptions of
carat weight, color, cut (shape and style), fluorescence, gemstone identification, and measurements. And it can denote unique characteristics such as absorption spectra, identifying characteristics, refractive index, transparency, and treatments. For some colored gemstones (rubies, sapphires, emeralds, and some tourmalines) reports
can also indicate country of origin.

Colored Gemstone Reports are offered in a variety of styles, and are also available for colored gemstone jewelry.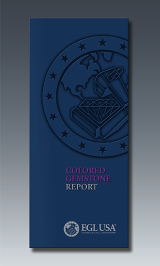 View the elements included in a typical Colored Gemstone Report